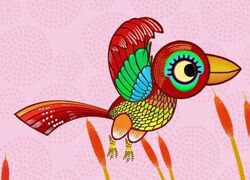 Tickbird is the best friend of Hippo. She is an oxpecker who eats ticks on Hippo's back.
Physical Appearance
She is a tickbird as her name suggests.
Personality
Tickbird is usually friends with Hippo. She is known for sitting on Hippo's back to eat the nasty ticks off her back.
Gallery
Animation
Trivia
"Tickbird" is a synonym for "oxpecker".