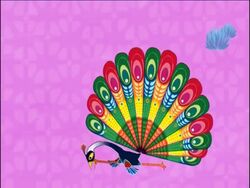 Peacock likes his tail feathers and the only known animal from Asia. He is also mean to other animals. He doesn't get any prizes on Why Zebra has Stripes. He has a best friend named Warthog. He doesn't like being called snooty. He upsets Mama Hen and makes her feel plain.
Appearance
He is black with red wings and crest. His Tail Feathers are all the colours of the rainbow.
Personality
He likes to brag and say that he is the best. He doesn't like being the winner and being yelled at and also being pulled by Lion. According to his story, he is very naughty and troublesome, calling animals plain and boring. Like Red Monkey, his favorite food is mangoes. Peacock displays his feathers a lot. Peacock is the prettiest bird in the whole of Tinga Tinga. He was once looking like a peahen until he got his tail. He doesn't like Lion. He is rather rude sometimes.
Episodes
Peacock has appeared in multiple episodes.
He lives at the water hole. He calls animals Plain and boring.
Quotes
It can't be that hard, Zebra, you only have to work with black and white. I have colour to deal with. Brrrrrrhahaha!
Ad blocker interference detected!
Wikia is a free-to-use site that makes money from advertising. We have a modified experience for viewers using ad blockers

Wikia is not accessible if you've made further modifications. Remove the custom ad blocker rule(s) and the page will load as expected.