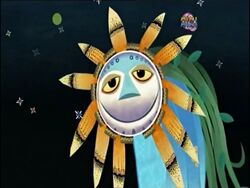 Majitu the Giant is a legendary giant who is one of the most fearsome creatures ever known. He walks on the savannah and drinks water.
Bushbaby says that Majitu does not exist. However, he does exist.
Personality
The animals begin to bring in a rumour that if Majitu has ever existed. Majitu is just a playful giant of Tinga Tinga.
Appearances
Season 2
Why Bushbaby has Big Eyes (first appearance)
Trivia
Majitu is a parody of Bigfoot.
Majitu has the least lines in the show.
Ad blocker interference detected!
Wikia is a free-to-use site that makes money from advertising. We have a modified experience for viewers using ad blockers

Wikia is not accessible if you've made further modifications. Remove the custom ad blocker rule(s) and the page will load as expected.