Hen also known as Mama Hen is mother chicken. She can be shy and has three baby chicks. Her story is Why Hen Pecks the Ground. She is sad sometimes because of Snooty Peacock.
Quotes
I may not have fancy feathers like you, Peacock, but at least I have friends.
Appearances
Season 1
Why Bat Hangs Upside Down (mentioned only; baby chicks appear)
Why Woodpecker Pecks (short speaking role)
Season 2
Why Hummingbird Hums (mentioned only)
Why Peacock Struts (cameo)
Why Cheetah has Tears (cameo)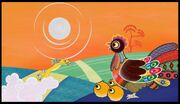 Ad blocker interference detected!
Wikia is a free-to-use site that makes money from advertising. We have a modified experience for viewers using ad blockers

Wikia is not accessible if you've made further modifications. Remove the custom ad blocker rule(s) and the page will load as expected.