Elephant always has the big head and tiny brain excuse.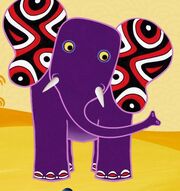 He and the other animals always accidentally step on Tortoise.
He is purple and red design.
He and Lion are kind of the same height.
His Eyes is yellow, red, and blue.
He's said That's Brilliant
Elephant has a best friend: Tortoise
His lines are: big head, tiny brain (shakes head)
Gallery
Ad blocker interference detected!
Wikia is a free-to-use site that makes money from advertising. We have a modified experience for viewers using ad blockers

Wikia is not accessible if you've made further modifications. Remove the custom ad blocker rule(s) and the page will load as expected.